Summer Outdoor Living and Travel Ideas
The outdoor living trend has been skyrocketing in popularity for years. Fortunately, it's a trend that directly pays off in fun factor! Even something simple like a fire table or a great BBQ setup can make a huge difference in how easy and enjoyable it is to use your exterior spaces.
-> Use a Fire Table to Make Cool Evenings Cozy

Whether your outdoor area is an expansive patio or a small condo balcony, a fire table turns a cool evening that you might have spent indoors into a cozy "fresh air" experience with beautiful lighting.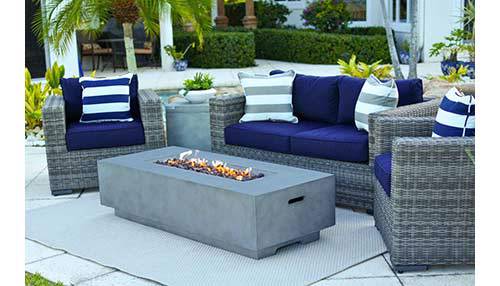 Image courtesy of Amazon.com.
The
Akoya fire table
shown above is currently around $1,000 on Amazon, but other brands offer options starting in the $200 range.
Like most things, when it comes to finding the right fire table or fire pit there are a lot of choices to make. Here's an excellent guide that explains the different shapes, materials and fuel types:
-> How to Choose the Right Grill for Summer BBQs

1. Plan on around 72 square inches of grilling space per person.

2. Buy bigger than you think you'll need, and calculate space using the primary grilling area. (Some makers include the warming tray in their numbers.)

3. Make sure the burner area is proportional to the grill so you don't end up with cool areas.

4. Look for a flame tamer that's directly over the grill, not to the side.

5. For condos: If homeowner association regulations rule out a flame grill, consider an electric smoker.
Here's a great resource for grill and smoker reviews and buying guides, including gas, wood, charcoal, electric and tailgate grills:
(The guides are around halfway down the page. The site has a lot of BBQ recipes as well.)


Pre-Travel Preparation Tips
Do you have summer travel plans? Before locking the door on your way out, consider installing a device that will automatically shut the water off at your washer if there's a leak.
One option is
the Floodstop
, which gets good reviews and is currently around $185 on Amazon:
(A device like this is actually a great idea at any time, seeing as washers are the biggest culprit when it comes to water damage in homes.)
Tip:
If you turn off your main water supply when you leave, open up one or two faucets when you turn it back on. This prevents excess pressure from building up in the system.
-> Printable Pre-Travel Checklist
Here's a downloadable checklist that helps you keep track of everything you need to prepare for a trip. Just click
here
or on the image below to open and print the 2-page document (pdf format).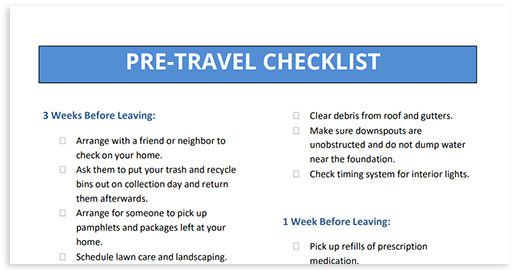 When Home Is the Great Outdoors
If camping is in your plans this summer, here are three handy items that can make your "roughing it" experience feel a bit homier.

Image courtesy of Amazon.com.
This propane cooking stove folds up easily to save space and has enough room to use two large pans or a wok. (It's a bit bulky for hike-in camping but is great for car camping.) Currently around $92 on Amazon.
Finally, a tent so easy to set up that even two arguing adults can complete the entire process in around 60 seconds. :) It also has a ceiling height of nearly 6 feet, making it very easy to spend time in. Currently around $150 on Amazon.
"Enjoy a hot shower in the outdoors" is the motto of this Australian company, whose tongue in cheek marketing video is worth a watch even just for laughs. Their full HOTTAP Nomad kit is currently around $430, while their Essentials kit is around $270.
Items linked to here may also be available in brick-and-mortar stores. Please read reviews and use your best judgment.