The trend of turning outdoor areas into an extension of daily living space is still going strong, and no one's complaining! Boosting your home's functionality in this way increases its appeal, and ultimately its value too.

Here are some popular ideas for outdoor spaces of all sizes.

Dennis and Jane Guertin
(952) 442-1300 Direct


July Outdoor Living Ideas

Colorful Plants that Attract Wildlife

Why not spice up your surroundings with appealing plants that attract interesting visitors such as hummingbirds and butterflies? It's quite easy to do even on a small patio or balcony, and some varieties give off appealing fragrances as well. Here's a good list of flower options:

Long-Blooming Flowers for Attracting Butterflies and Hummingbirds

And here's a link to the official USDA Plant Hardiness Zone Map.

Tip: Apparently single flowers (those with just one ring of petals) provide more nectar and pollen than double flowers. Bees tend to prefer blooms with blue, purple, or yellow petals, according to this "Attracting Beneficial Bees" article.


Mood Lighting that Makes Magic

Soft exterior lighting creates a relaxed and intimate feel that enhances quiet evenings and festive occasions alike. You can use this to your home's advantage in a number of ways.

- Solar-powered stair lights and post cap lights

Lighting incorporated into a deck, walkway, or stairs makes for an elegant evening look that's useful as well. Solar power means this decor is eco-friendly and cost-efficient.

- Fire pit table

Nothing beats gathering around a real fire, and a fire pit table allows you to do this almost anywhere.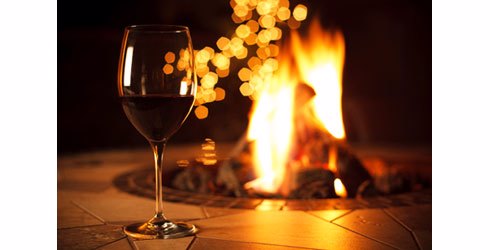 An outdoor fireplace feature was the most popular design element in a 2017 survey of landscape architects.
- Decorative string lights

String lights come in many styles and create an inviting atmosphere for evening gatherings. (This is partly why it's not uncommon for lights that were hung for a party to end up staying permanently.)

- Battery-powered flameless candles

Flameless candles provide surprisingly realistic and attractive light, with most models flickering like a real candle. Many come with a timer and remote control, like these weatherproof versions for sale on Frontgate.


Shade Sails that Give Shelter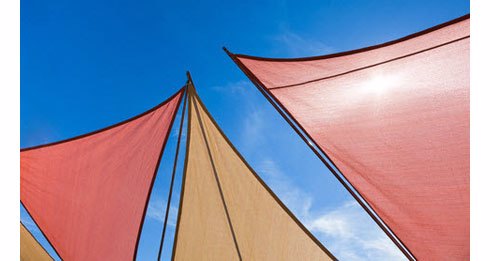 Shade sails are an attractive and versatile way to expand your outdoor living options by creating shelter from sun, rain, and wind. (Not all varieties are water-resistant, so be sure to check.) These can be a great temporary solution for condo balconies, where homeowners may not be allowed to put up permanent structures.

The BackyardCity website has a variety of nice shade sail styles.



A Grill that Makes BBQs Great

There are so many types of gas, charcoal, smoker, and other grills on the market that shopping around can start to feel overwhelming fast! Fortunately, some people live and breathe grill-talk. Here's a useful Grill Buyer's Guide from the passionate people at the Amazing Ribs website:

"How to Buy a Grill" - The Grill Buyer's Guide from Amazing Ribs

Electric grills are often a good choice for condo owners who may not be allowed to have an open flame on their deck or balcony.



A Sport Court that Gathers Friends and Family

Did you know that a growing trend is for homeowners to trade water-dependent lawn areas for... a bocce ball court? It's no joke, according to landscape experts who have seen increasing demand for backyard sport courts over the last few years.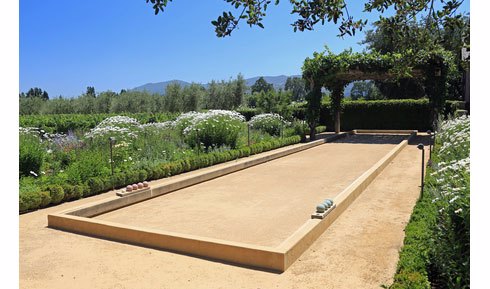 Popular in Europe for centuries, bocce is catching on in the U.S. due in part to its "come as you are" appeal. (It can be played by people of all ages and skill levels.) A typical backyard court size is 10 by 60 feet and costs around $7 per square foot for a do-it-yourself install, according to Frank McNutt, owner of Bocceman.

If that sounds like too much space, consider a cornhole court, horseshoe pit, petanque court, or croquet course - all part of the growing "backyard sport court" trend. Here's a helpful guide to court sizing:

The Basics of Backyard Bocce, Cornhole and Croquet Setups


What the lawyers make us say: The information here is not presented as expert legal or financial advice. Please use your best judgment and consult professionals when necessary.
Contact Us for Market Information
Are you curious about your home's current market value, or do you have a question about home buying? Just reply to this email, or call us at 952-442-1300.
View Our Featured Home Listings
Links that Make Life Easier
Sometimes real estate-related, sometimes not... these are assorted links that come in handy:
The BIG List of Plants that Attract Pollinators
Scroll to the bottom of the article to see lists of plants that attract bees, hummingbirds, butterflies, and butterfly larvae.
2017 Trends in Garden Design
Noteworthy popular trends in landscaping design.
Coconut Hummingbird Cake
Rest assured, hummingbirds are not an ingredient. :) This cake looks great and appears relatively easy to make.
---

With wedding season in high gear, here's a little reminder of a few things to not do on the big day! Click here or on the image above to watch the video on the America's Funniest Videos YouTube channel.
Your Resource for Real Estate
Are you thinking of buying or selling a home in the next year, or could you use some remodeling advice? Even if you just need the name of a good service provider, please remember that we're always here to help you. We welcome the opportunity to serve you, your friends and associates with our expertise and recommendations.
Please give us a call today at (952) 442-1300 if we can be of assistance!
If you are currently working with another agent this is not an attempt to solicit that business.
©Copyright 2016 Tools For Real Estate